Let's start at the beginning, where Lady Gaga created the Paparazzi music video
Discover & share this Animated GIF with everyone you know. GIPHY is how you search, share, discover, and create GIFs.
Lady Gaga essentially predicted her career in the music video in 2009. The video depicts the downfall of her career but she eventually comes back on top and everyone loves her again. Ironically, the newspaper article in the music video states "Standing ovation for the Lady", which is EXACTLY what happened at the Venice and Toronto film festival.
We could say Lady Gaga reached the peak of her career in 2010-2011 with the release of TFM and BTW.
Lady Gaga was on top of the world during this time, with #1 singles, #1 albums, sold out tours, having the most viewed music video on Youtube, covering every single magazine cover and the promo for her albums was over the top. She was basically breaking records left and right just by blinking.
Sadly, the Born This Way era was cut short as Lady Gaga broke her hip
This put a massive strain on her career as Gaga had to stay out of the spotlight for a very long time. Gaga was in her prime and suddenly her career had to be put on hold. This lead to a complete blackout which left fans constantly wondering when she would be back in the spotlight.
Discover & share this Lady Gaga GIF with everyone you know. GIPHY is how you search, share, discover, and create GIFs.
Then we head into the ARTPOP era that began in 2013
Lady Gaga announced her 4th album in July of 2013. The release party was epic af, not only did Gaga announce her album, but she also announced the lead single and groundbreaking app that would coincide with the album.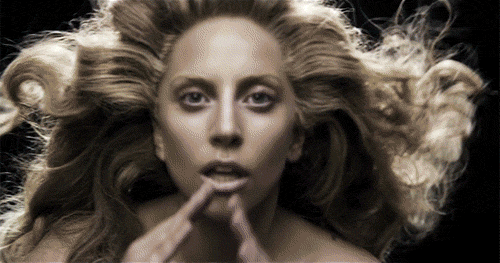 The pre-era started off great, however as we got closer to release date, the lead single was leaked forcing Lady Gaga to officially release it to the radio earlier than expected. A few months later, we moved onto another single: "Do What U Want", it was performed at the AMAs and a music video was supposed to be released, however because of backlash, this never happened, thankfully.
Fast forward to the album release, due the fact that Gaga had been on top these last few years, she had been held to a certain standard and a very high pedestal. The media was determined to bring her down any chance they got. According to their standards, the album was labelled as a "flop", which of course it wasn't. The album performed very well, and if you compare it to albums that are released today, it would outperform A LOT of them.
Despite all the criticism, Lady Gaga was able to complete a worldwide tour before finishing the era.
Now this is where Lady Gaga's career takes a turn: the Cheek to Cheek era
Lady Gaga announced in late 2013, that she would be collaborating with her long-time friend Tony Bennett, for a jazz album. The album was released in September of 2014, it debuted at #1 on the Billboard 200, won a Grammy and re-established Lady Gaga's status in the music world.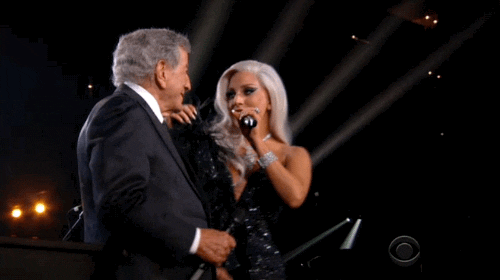 It seemed like the general public and critics had a hard time accepting her as a real artist behind all the makeup and crazy outfits. So, people began to take her seriously once they solely focused on her voice.
The era was a long one with massive promo and a sold out tour.
While fans eagerly waited for Gaga to announce her next album, she made sure she stayed in the spotlight. Her next career defining moment brings us to the Oscars
Lady Gaga performed a "Sound of Music" medley at the 87th Oscars which shocked the entire world. It took months of preparation but it was definitely worth it. She received a standing ovation and Julie Andrews even said "She hit it out of the ballpark.".

At the end of 2015, Lady Gaga received Billboard's 'Woman of the Year' award
Lady Gaga was slowly getting on top of the world again, with a Golden Globe nomination under her belt for AHS, and now winning Woman of the Year, she was truly thriving.
Fast forward to 2016, Lady Gaga announces her new album "Joanne"
Fans and the media were eagerly waiting to see in what direction Lady Gaga would be going in with her next album. The album cover which was very minimalistic was revealed in September of 2016, it was certainly different from what were used to. The album performed very well on the charts considering not much promotion was done beforehand, or should I say not as much as promo as the previous eras had.
No Description
Shortly after the album announcement, Lady Gaga was revealed to be headlining the Super Bowl halftime show
This left fans going into a frenzy, it's all a fan can dream of: seeing their fave headlining one of the biggest, if not the biggest, sporting event in the world. Millions are watching, past and current albums and singles shoot straight to #1 on the charts and if the performance is done well, praise is received from the critics and the general public.
The official GIPHY page of the NFL.
Well, Lady Gaga did ALL THAT, with Billboard even calling her a "legacy artist".
A tour to support her latest album was announced after the Super Bowl, which would bring Gaga across the United States, Canada and Europe.
The tour was selling out literally everywhere, even stadiums in the United States. Lady Gaga was the first female to headline Wrigley Field and Fenway Park. This tour was unlike any other, the stage was beyond elaborate with fans getting a good view no matter where they were in the arena.
While on tour, Lady Gaga reveals her documentary coming to Netflix
Fans have always asked for a documentary about Lady Gaga's life. In 2013, it was revealed that Gaga was working on a doc with Terry Richardson, however it was scraped for obvious reasons. "Gaga: Five Foot Two" was released via Netflix, it premiered at one of the biggest film festivals, received critical acclaim, and won an MTV Movie Award.
No Description
Later, the tour was cut short as Lady Gaga struggled with fibromyalgia
The European leg of the tour was postponed and then eventually cancelled as Lady Gaga was struggling with her fibromyalgia. It was decided that it would be best that she did not move forth with the tour and that she focused on recovering.
And now here we are. A Star is Born has premiered at the Venice and Toronto Film Festival…
Would it be too far fetched to say that Lady Gaga may reach a brand new peak in her career? The movie is receiving absolute critical acclaim with a 95% Rotten Tomato score and an 89 on Metacritic. Critics are praising the movie AND the soundtrack and even saying it has the potential to snatch a few Oscars.
Could this be? Lady Gaga earning an Oscar for her FIRST lead movie?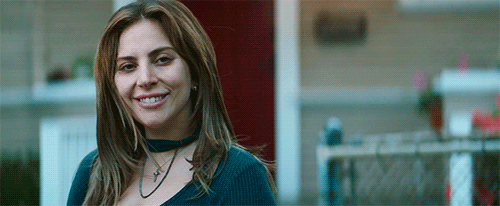 Only time will tell when the movie is released on October 5th.