CBS Sports has taste! They recently ranked all 51 Super Bowl halftime shows and Lady Gaga's mind-blowing performance came in at #2. Prince holds the #1 spot.
It comes to no surprise of course, the performance shattered many records!
But we also need to talk about all the tea they spilled. Read below!
2. Lady Gaga (2017)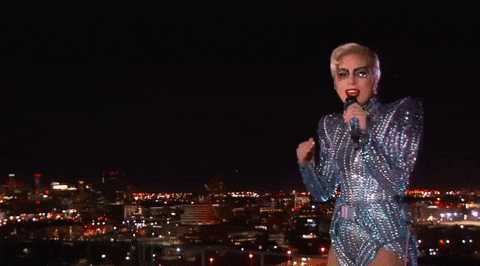 Leave it to Gaga to redefine "over the top" at the Super Bowl. She literally jumped off the friggin' roof of NRG Stadium onto the field. OK, not exactly — it was some clever stagecraft — but, seriously, will anybody ever top that entrance? Not unless Justin Timberlake parachutes into U.S. Bank Stadium in a speedo.
From there, she put on her "Poker Face" for arguably the greatest Super Bowl spectacle in halftime history that also included the hits "Edge of Glory," "Born This Way," "Telephone," "Just Dance," "Million Reasons" and "Bad Romance."
Really, there wasn't anything this show didn't have, other than a surprise cameo. This was the Pepsi Zero halftime show — with Gaga, you don't need no extra sugar.
Four outfit changes? Check? Talking on a crystal star phone? Check. Flying drones? Check. Making a statement of tolerance and inclusion without being overly political? Check and check.
Gaga also gave a shout-out to her parents, while playing the piano on "Million Reasons."
Tom Brady might have led the Patriots to the greatest comeback in Super Bowl history, but let's be honest. Gaga is the real MVP here.
MIc drop? Definitely.
AND THAT'S HOW YOU DO IT!