Without any hype, or any kind of warning… Lady Gaga fans woke up to a fan suddenly discovering the singer on the cover of the latest issue of V Magazine!
The stunning cover was shot by Hedi Slimane, who also shot "The Fame Monster" album shoot. Which guarantees slayage. This is also Lady Gaga's 26th time on the cover of V Magazine!
Yes, you heard me. 26 TIMES.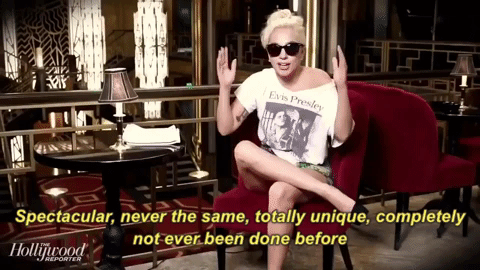 Not to mention, she has also been featured in the magazine several other times, became an editor of their 2016 January issue AND won "Editor of the Year" for V99!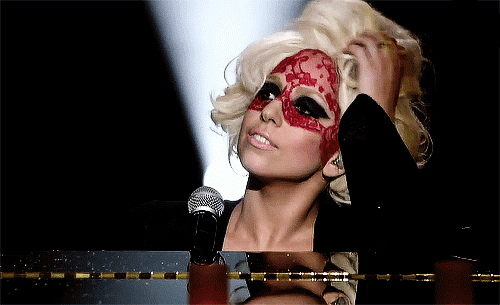 Check out the cover, photoshoot and interview of V109 below!
Interview
I keep seeing this girl. It's in a dream. In the dream I'm playing at an amphitheater, outdoors, and beyond the seats there's a field in back—it's the cheap tickets. That's where the girl is sitting, dressed in a Hanes sweatshirt, wearing her mom's rolled-up jeans. She has three babies, two are running around her. There's a cigarette in her hand, a glass of Pinot Grigio. She's got on a lot of jewelry, mostly fake, but she also has on one heirloom piece. This girl is singing every word and she thinks, How is it possible that Lady Gaga understands how I feel? That girl—it's me. She's the one I'm writing to. With Joanne, I wanted to reach people, I wanted to bring all parts of the country together through this record." —Lady Gaga
As a reader of a "celebrity profile," I want the dirt, the gossip. I want to know what makes someone tick. I want to delve deep and get at the heart of who they are. When the chance to interview Lady Gaga came up, I was curious to understand the source of her drive. Where did all that energy, enthusiasm, and ambition come from?
My youth was spent in a New York reigned over by Andy Warhol, so I know a thing or two about superstars. Warhol would have loved Gaga. Had she been on the scene in the 1980s, Andy would have gone out with her every night, happy to take her places, to dinner, to art world events—someone to travel and spend time with. He would have been painting her portrait and collaborating on projects with her. Both Catholic, creative, ambitious, not nasty or grandiose—both lonely and both wanting to see the planet, explore, and grab the world. He would have been full of admiration for her.
There's always a buzz of excitement surrounding Gaga, and when I mention I will interview her, everyone from my 21-year-old daughter to my middle-aged friends instantly knows who she is. Even where I live—upstate New York, Schuyler County, where the usual radio stations are turned to country—Gaga's instantly identifiable voice can be heard in Walmart. The people I know may not be listening to her, but everyone sure knows who she is. How has this happened? Gaga is barely over 30 and the world has become a place separated into small categories of personal interest. She has, in 10 short years, seemingly melted into the global consciousness. And as she readies for her upcoming Joanne World Tour from August to December in support of the album of the same name she released almost a year ago, Gaga is as much at the forefront of pop music as ever.
The build-up before meeting her is dizzyingly complex. In the days leading up to the interview, numerous calls arrive: One moment the interview may take place on the 22nd, then the 23rd, and finally the 24th. The on-set time will be in the morning, then the afternoon, and on the date itself the shoot is moved from AM to PM, from five, then six, and so on. When I finally get the call to come to set, it comes with the caveat that the interview time will have to be pushed further back. Gaga, I'm told by one of her handlers, has decided to shoot a low-key video for one of her songs from Joanne. I wonder to myself, After a full day on set—endlessly exhausting!—which Gaga will I meet?
Those who have achieved this level of success have often entered zombiehood, frozen in a space reserved for those who inhabit a glazed-over world of flashbulbs and handlers, unable to trust anyone outside other "equally important" celebrity acquaintances or their immediate entourage—P.R. companies who notify the press of the arrival and departure times of their flights, handlers, secretaries, stylists, people around whom they can act natural. These are their friends, all of whom are getting paid. They've been followed, photographed, maligned, sneered at, trashed, and they have had to develop a steel coat of armor. They are in a bubble.
Even when I've gone to the homes of major celebrities to conduct interviews, the person will often have no interest, and perhaps no skill, in showing themselves as anything other than a well-rehearsed, inhuman star. By the time the public has gnawed off their shell, it seems there is nothing left inside to give.
When I arrive at the studio, there is a phalanx of people: bodyguards, car drivers, studio employees. Then there's an inner sanctum of magazine staff, and beyond that, surrounding the temple altar, are the lighting and sound guys, photographer, and stylists—with Lady Gaga at the center of it all, the nucleus around which a million frantic atoms spin, forever in orbit, held steadfast by some mysterious gravitational pull. She's got a guitar and she's strumming it casually, unable to get the F chord right. All the while, she's fussed over by makeup artists and stylists making various adjustments to the clothes hanging off her body.
There she is, Lady Gaga, the larger-than-life star, unbelievably tiny and luminously beautiful as she smiles and waves hello to me. She has more than $200 million to her name and has met, or so it seems, everyone on the planet. And yet, in that moment, in her cut-off jeans, white T-shirt, and cowboy boots, she appears to be just another person. Of course, it's an illusion, because she is anything but. Even when stripped of all the heavy makeup, the enormous shoes, and costumes, even after a 12-hour day of what must have been hard, unending work, she's encased in her own sparkling magic.
I'm expecting someone ferociously ambitious, a petulant commander-in-chief, a force of nature that must achieve and succeed with such intensity that you can feel or sense it in the person. But from behind the lights and various rigs, watching it all unfold, the Gaga before me seems almost blithely unaware of the frenzy around her. She's just sitting there, childlike and waifish. A man tunes her guitar and returns it. One of Gaga's breasts is exposed, pressed against the guitar's back. She's beautiful in a wistful way. And while there is no denying that her vocal talent has propelled her to the heights she has achieved, it's that mysterious quality, the one we all yearn to brush up against, that has provided the fuel for her rocket ride to fame's outer limits.
She launches into a song. It's from her most recent album, Joanne, which is vaguely…country-western-ish. It's very pleasing: the simple chords, the sad, plaintive singing. She's clearly experienced sincere sadness and it comes out in the way she sings. I'm usually appalled at phony "artistic" emotion, but I'm not getting that sense at all. I sit on a barstool, watching—and waiting.
Hours pass. I wander into the other rooms. I've been waited on by her assistant, her manager. They've procured champagne to tide me over and sent out for a bottle of Pinot Grigio (which is what I've requested). Apart from Gaga's flickering light, you can
feel, after such a long day, that the energy in the studio has begun to fade like a dying bonfire. By the time she's done with a last-minute decision to record a song, alone, acoustic, it's after 10 PM. The staff disappears. She bops around the studio, grabbing a hat and sunglasses for the picture of both of us I need so desperately to impress my friends with—particularly my 21-year-old (my status has gone up in big percentages by my meeting her). Gaga is dressed casually, but is practically naked, her tiny shorts revealing her plump derrière, her T-shirt cut so high that her breasts are exposed. I wish I had this kind of ease with my body. I have the feeling that, alone at home, she's probably naked all the time. Gaga's manager and I go into the makeup and dressing room. We sit on high stools in front of the mirror, the lights around them bright. I'm drinking the Pinot Grigio, she's puffing on a clove cigarette.
"For me, Joanne, in the simplest terms, it's the classic stories of our lives that help us return to who we really are, no matter how lost we get." She leans forward, eager to explain. "You can always go back to a loss, or the pain of a pending loss, or a challenging struggle in your family life, or your childhood. And when you go back to that place, it somehow brings you back to where you were in the beginning. And for me, that's what writing this album was all about. Because after The Fame Monster and subsequent albums, I felt that there was a part of me that was connecting on a human level with the public and part of me that was connecting on a whole new level, one that I had been wanting to connect with them on, a sort of fantastic magical level. And now, I want more of that connection."
At this point, we're gabbing like old friends and all my questions about what makes her tick somehow vanish. As the interview progressed, I wanted to protect her. Maybe it's similar to the way people must have felt when they met, say, Audrey Hepburn or Marilyn Monroe, women who appeared fragile and damaged but who were, at the same time, extremely strong. It's the same feeling, too, that I would have when I spent time with Andy Warhol. Back then, on nights when I would go out and hit the town with him, there was frequently an almost palpable anger and hostility in the crowds that gathered around him. Those of us who were with him made sure that Andy was whisked off into a quieter, more isolated room. But Andy did not seem to notice. He was oblivious, or perhaps even pleased with the attention.
Bobby, her manager, runs to get a cassette player—Gaga wants me to hear her song about Pinot Grigio, which is what she and her girlfriends drink all the time.
"I want to connect with people on a deeper level," she tells me. "And I wanna be able to see all those other things I'm interested in, but slowly and differently. Joanne is about living every day as if it's my last. My father's sister died when she was 19—that was Joanne, my aunt. This was the center of the pain in my family. Growing up, I never understood what the tears of my family were about."
"How did she die?" I ask.
"Lupus," Gaga replies.
"Oh. Like Flannery O'Connor," I say, in reference to the brilliant writer who died from the disease.
"It's a terrible autoimmune disease. [Joanne] died in 1974, but they had no idea why she died. They didn't know what it was. And so when she was really, really ill, she had these lesions on her hands and the doctors wanted to take her hands off. She was a painter, and she did needlepoint and crochet, and she was a writer and a poet. As Joanne neared death, my grandmother said, 'I can't let my daughter's last moments on this earth be without her hands.' The spirit of Joanne is very much alive within my family. My dad has a restaurant called Joanne, and for me, personally, it means I must live every day as if it was my last. Catholic guilt. It's those stories, those classic stories, that made me tough." Gaga's sincerity—her openness and enthusiasm—are touching, seemingly at odds with the exhibitionist/provocateur/larger-than-life entity who can perform at the Grammys with Metallica or headline a Super Bowl halftime show.
"Tell me about the horses," I ask her instead, switching the topic to something I'd learned about Gaga, a passion of hers that honestly surprised me.
"I guess, when I moved to California, the sunlight was really good for me—I was happy. The sunshine helped to keep an optimism in my music. And while out there, I developed a special connection to horses. It began when my record label gave me a horse for my birthday: an Arabian mare named Arabella. I had never taken a horse-riding lesson. I literally did not know how to ride a horse. But I just grabbed her by the mane and rode her bareback." An avid equestrian myself, I was curious to learn more.
"Was she very well-trained?" I asked her.
"She's so well-trained that when I was about to fall off her, she stepped to the side to collect me. I also got her a boyfriend, Trigger—a stallion—because I didn't want her to be alone. With him, I have to ride with a saddle. When I ride him, it always makes me feel so powerful, because he is so powerful. There's no pressure. I just get on the horse and go. It's sort of a metaphor for all the guys I've been with."
"I still don't understand how you can do this," I say. I'm a rider, a trail rider. I have my nice American Quarter horse, but even after years of lessons, I can't imagine getting on her and galloping off bareback. On the other hand, I couldn't wear 10-inch platform shoes and not fall over, either.
"My body's been through a lot over the years. Riding has forced me to be fearless pretty quickly. It's all about down here," Gaga notes as she points to her crotch, "in that woman area." She adds, "Balance, strength, persistence." It's a routine that Gaga seems to have found strength and inspiration from: "I go on trails, ride, gallop, I'm not a 'planning' type of horse rider. I wake up, write songs, go for a ride." To be sure, it's an existence that sounds divine to me, but also one I know is very much a fairytale for most of us, if not for the quotidian practicalities alone. Reflecting on her bucolic pleasures, Gaga pauses, noting, "It's all so antithetical to the me when I'm in NY, having grown up here. I went out today in Manhattan. It was pouring, but with my newfound appreciation of the city, I said to everybody, 'Hey, isn't it great!'"
"Who's everybody?" I ask. "I was talking to my team," she answers. "The girls that take care of me. I have these wonderful powerful women in my life. They wake me up every day and make sure I am powerful, feeling good and strong. And also the gay men in my life. I would be lying if I said there weren't some straight men on my team, but to me it's the women and the gay men around me who give me strength."
As the interview winds down, I'm curious where she'll go after the cameras, stylists, and handlers disappear. "Are you going out?" I ask, picturing an exclusive, underground wrap party.
"No, I'll go home," she replies. "I'll listen to music, play the piano, probably stay up until around three. Normally, I wake up and go to the studio when I'm in NYC, but I happen to have the day off tomorrow." As I'm about to leave, she presents me with a huge bouquet of beautiful hydrangeas and calla lilies. If I wasn't won over before, I am now.
Long after the interview, I miss her. I'm not trying to be gushy after hanging out with her, but I just have to admire this creature, the same as I would admire a brilliantly colored hummingbird or flower, a rose in full bloom, the petals not yet starting to droop. It's the first occasion in a long time that I've wanted to make a new friend, to watch as her crazy life unfolds in front of me, to grab the tail of a comet and hang on for the slipstream ride. I still don't know what makes her tick, but I can say—and with an acute radar for phoniness—I walked away from our interview with only praise and awe for Gaga.
As I survey her trajectory as an artist, I wonder what it means in the bigger scheme of things when we encounter the sudden emergence of stars of this magnitude—say a Madonna or a Michael Jackson. In some cases, virtuoso talent ascends and fades rapidly, a burst of creative dazzle akin to a roman candle. While for others, their work, their reputation, outlasts their lives—Elvis Presley, perhaps. The Beatles. I've known many who have come to New York City, formed a band, played every gig in town, and made an album. For a moment, "success" must have seemed so readily within reach. But where are they now? Dig through the bargain bins at any of Manhattan's dwindling number of music stores and you'll find their albums selling for a dollar or two. But it seems unlikely that Gaga's desire to consume the universe will be easily quashed, and her ambitious world tour this year is another expression of that passion.
In many ways, Gaga's stardom has moved her farther from the paradise that most of us already think she has achieved. Sure, she has her ranch to retreat to, but the arcadia of her own making, as in mythology, reminds us there are greater forces waiting at the gates. Gaga has rocketed to fame's greatest heights and landed upon its Elysian fields. In so doing, she is, like the girl that she speaks of, alone in the distant field, wearing jeans and a Hanes sweatshirt.
But Gaga is also gentle and brave, more resolute than any I've met before. I think—I know—the summits she has reached, while not removed from epic tribulations, are assuredly her very own Mt. Olympus, and she our bright-eyed Athena, a goddess to be admired—and protected.